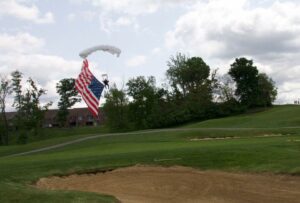 On Sunday, May 19, 2019, the 19th Annual Aubrey Open will be held at the Aston Oaks Golf Course. Lunch will be served at noon and then there will be a 1:30 Shotgun start. Dinner will follow tee time at 6:30 p.m. The event is being held to raise money for the Aubrey Rose Foundation.
At 1 p.m., Team Fastrax™ will perform a patriotic show before tee time. Participants will look to the sky as two team members perform a dazzling American Flag down plane performance.
"We are elated to be performing at such an important event. There are so many families out there with hospitalized children struggling and in need of help and hope," commented John Hart, owner of Start Skydiving, and Founder of Team Fastrax™. "The Aubrey Rose Foundation does a great job of supporting those families so being a part of this event to raise money for their foundation is an honor."
The jump is donated by SELECTiON.COM® to assist in raising donations for the Aubrey Rose Foundation.
The Aubrey Rose Foundation provides support and help for those who seek to be lifted from the complexities of life here on earth and to find a greater happiness in those things that could be, according to their website. The Aubrey Rose Foundation, founded in memory of their angel Aubrey Rose, honors her by awarding education scholarships, helping needy families with medical expenses, organizing toy and holiday parties for sick children, promoting organ donations, and organizing dinners for Ronald McDonald House families.
The Aubrey Rose Foundation also developed Healing the Worlds Hearts Program with the help from Cincinnati Children's Hospital doctors, surgeons, and corporate support. The program provides "simple" heart procedures to sick children in the U.S. and developing countries around the world. These heart procedures not only save a child's life, but it also allows them to live a healthy life without follow-up cardiac procedures.
For more information about the 19th Annual Aubrey Open or to purchase tickets visit the Aubrey Rose Foundation website.
Team Fastrax™ dedicates every performance to a local fallen hero. They may be gone but are not forgotten. The performance by Team Fastrax™ is dedicated to Army Spc. Samuel T. Watts. For information on Army Spc. Samuel T. Watts visit the Honor the Fallen website.
 Team Fastrax™ is sponsored by SELECTiON.COM®, a nationwide provider of criminal and pre-employment background screenings also referred to as a Consumer Reporting Agency. Headquartered in Cincinnati, OH, SELECTiON.COM® is a veteran-owned company that has been in business since 1991 and offers more than 35 background and data collection services.