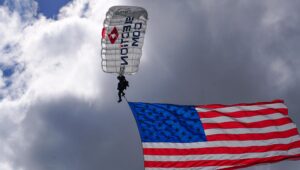 Starting on Friday, May 31, 2019, The Chevrolet Detroit Grand Prix presented by Lear is a three–day event filled with never-ending action and family fun. There's a little bit of something for everyone at this event. 
On Saturday, June 1, as part of the NTT IndyCar pre-race ceremonies before the Chevrolet Dual in Detroit race number one, Team Fastrax™ will dazzle the spectators with their flag demonstration jump. The skydivers will fly in with a 1,1000 sq. ft. American flag and a Canadian flag.  
"We are honored to be performing during such an exciting weekend in the birthplace of the automotive industry," commented John Hart, owner of Start Skydiving, and Founder of Team Fastrax™. "Grand Prix weekends are always exhilarating, and the Chevrolet Detroit Grand Prix is no exception." 
According to the Grand Prix website, the event will feature the cars of the IndyCar Series, the Chevrolet Sports Car Classic with the exotic sports cars of the IMSA WeatherTech SportsCar Championship and the Trans–Am Series presented by Pirelli. The Grand Prix will feature several exciting events. Live music performances are happening all weekend at the Entertainment State in the Meijer Fan Zone. Headliners are country blues rocker Frankie Ballard, Saturday, June 1, and rock band Stone Temple Pilots, Sunday, June 2. Fans can receive autographs from those in the racing series, along with legends from Detroit's professional sports teams at the Meijer Fan Zone. 
 For more information on the race or to purchase tickets visit the Detroit Grand Prix website. 
 Team Fastrax™ dedicates every performance to a local fallen hero. They may be gone but are not forgotten. This performance by Team Fastrax™ is dedicated to Army Spc. Kyle P. Stoeckli. For more information on Army Spc. Kyle P. Stoeckli, visit the Honor the Fallen website. 
Team Fastrax™ is sponsored by SELECTiON.COM®, a nationwide provider of criminal and pre-employment background screenings also referred to as a Consumer Reporting Agency. Headquartered in Cincinnati, OH, SELECTiON.COM® is a veteran-owned company that has been in business since 1991 and offers more than 35 background and data collection services.