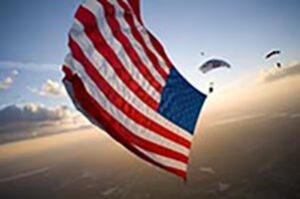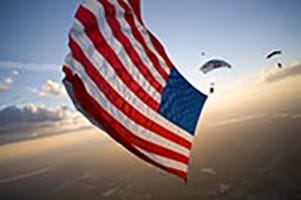 Starting on Friday, September 20, 2019, the NASCAR Playoffs return to Richmond Raceway in Richmond, VA. The Go Bowling 250 NASCAR Xfinity Playoff Race will be held on Friday. The Federated Auto Parts 400, a NASCAR Cup Series stock car race, will be held on Saturday. All the stars of the NASCAR Cup Series will battle it out around the ¾ mile track for the checkered flag.
At the start of each race, Team Fastrax™ will be performing a fantastic patriotic aerial display with their 2,000 sq. ft. American Flag, a 1,000 sq. ft. "Richmond is for Racing Lovers" flag and the Honor and Remember Flag. The Honor and Remember Flag is dedicated to Gold Star families and contains more than 350 signatures from Gold Star families who have lost a family member in the service of our country.
"We are privileged to be performing our patriotic American flag skydive during such a thrilling game at Richmond Raceway," commented John Hart, owner of Start Skydiving, and Founder of Team Fastrax™. "The NASCAR Cup Series is very ambitious, and we couldn't be happier to be a part of it."
According to the Richmond Raceway, there will be numerous driver appearances throughout the day at the Markel Entertainment Plaza. Fans can also go outdoor karting at Richmond Raceway. On Friday night, there will be a Rolling Concert in the GEICO Campgrounds. On Saturday, there will be several Harlem Globetrotters "Globe Experience" Performances on the Midway Stage.
For more information on the race or to purchase tickets, visit the Richmond Raceway website.
Team Fastrax™ dedicates every performance to a local fallen hero. They may be gone but are not forgotten. This performance by Team Fastrax™ is dedicated to Army Sgt. Marvin R. Calhoun Jr. For information on Army Sgt. Marvin R. Calhoun Jr., visit the Honor the Fallen website.
Team Fastrax™ is sponsored by SELECTiON.COM®, a nationwide provider of criminal and pre-employment background screenings also referred to as a Consumer Reporting Agency. Headquartered in Cincinnati, OH, SELECTiON.COM® is a veteran-owned company that has been in business since 1991 and offers more than 35 background and data collection services.