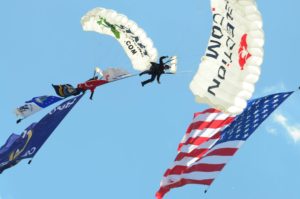 Sunday, May 27, 2018 Team Fastrax™ will be performing as part of the opening ceremony of the Indianapolis 500 Verizon IndyCar Race. The race is held at the Indianapolis Motor Speedway in Indianapolis, IN.
The Indianapolis 500 is set to begin just after noon, and will start with patriotic festivities to honor our nation's military men and women. To start the pre-race activities in spectacular fashion, Team Fastrax™ will captivate the fans with a patriotic aerial display like non-other.
Just as the spectators are getting geared up for this year's running of the Indianapolis 500, a 5,000 sq. ft. American Flag will be seen high up in the sky, gracefully descending down in to the speedway.
That American Flag will not be alone. This performance will be one of the team's most elaborate so far this year, and will include a 1,000 sq. ft. Purple Heart Flag, a 1,000 sq. ft. Gold Star Flag, a 1,000 sq. ft. checkered flag, an armed forces medley flag lanyard, a POW/MIA Flag, and two skydivers trailing Red White and Blue Smoke.
So that the spectators can experience the show on a new level, the jump will be shown via live air-to-ground video feed from the point of view of one of the skydivers.
"We are honored to be performing our patriotic American Flag skydive during Memorial Day weekend at Indianapolis Motor Speedway," commented John Hart, owner of Start Skydiving, and Founder of Team Fastrax™. "Members of Team Fastrax™ have served the United States of America as part of the Armed Forces, many in combat, so we particularly enjoy performing at any event that honors our Nation's military."
In addition to Team Fastrax's high-flying entertainment, the speedway website says the weekend will be jam-packed with entertainment, including concerts by Filmore, Canaan Smith and Sam Hunt on Saturday. Kelly Clarkson will perform the National Anthem to start the race on Sunday. Pre-race festivities will also include a military march, a military address delivered by General Joseph Lengyel, Presentation of colors, and a flyover.
For more information on the race, or to purchase tickets visit the Indianapolis Motor Speedway website.
This performance by Team Fastrax™ is dedicated to Army Pfc. Leroy Deronde III. For information on Pfc. Leroy Deronde III, visit the Military Times website.