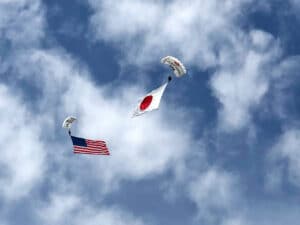 IWAKUNI, JAPAN
On Sunday, May 5, 2019, Team Fastrax™ will perform a special patriotic demonstration at the JMSDF/MCAS Iwakuni Friendship Day.
At 10 AM, viewers will be amazed as Team Fastrax™ executes a thoroughly coordinated aerial demonstration by skydiving with their 3,000 sq. ft. American Flag and 2,000 sq. ft. Japanese Flag.
"Members of Team Fastrax™ have served the United States of America as part of the Armed Forces, many in combat, so we particularly enjoy performing at events that honor the military," commented John Hart, owner of Start Skydiving, and Founder of Team Fastrax™. "We are honored to be performing at JMSDF/MCAS Iwakuni Friendship Day."
According to the JMSDF/MCAS Iwakuni Friendship Day website, this is the 43rd anniversary of Friendship Day, which is an open house for the U.S. and Japanese service members. It is also one of Japan's largest air shows. This year, the air show will feature both U.S. and Japanese aerial demonstration jet teams, a Marine Air-Ground Task Force demonstration and civilian parachute jumpers.
For more information on the event, visit the JMSDF/MCAS Iwakuni Friendship Day website.
Team Fastrax™ dedicates every performance to a local fallen hero. They may be gone but are not forgotten. This performance by Team Fastrax™ is dedicated to Marine Cpl. David M. Sonka and Senior Chief Petty Officer Kyle Milliken.
 Team Fastrax™ is sponsored by SELECTiON.COM®, a nationwide provider of criminal and pre-employment background screenings also referred to as a Consumer Reporting Agency. Headquartered in Cincinnati, OH, SELECTiON.COM® is a veteran-owned company that has been in business since 1991 and offers more than 35 background and data collection services.