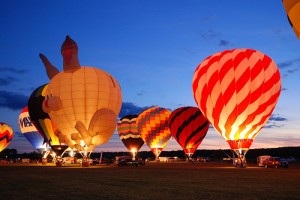 Middletown's Ohio Challenge Balloon Festival is July 12th – 14th, and is set to include several performances by the Team Fastrax skydivers. This includes their much anticipated pyrotechnic display, which is an amazing site to behold.
The event will be held July 12th through the 14th, in Middletown's Smith Park, which is adjacent to the Middletown Regional Airport. It has something fun for everyone, including hot air balloon rides, Murray Brothers Carnival, crafts, live music, and much more. Team Fastrax will be performing their pyrotechnic shows both nights, including several other exciting jumps throughout the day. Perhaps the most important jumps being the Gold Star Mom Tandems. "A Gold Star Mom is a Mother that lost her child in combat. They typically jump in honor of their child, and for Team Fastrax it is an honor to jump with them," said John Hart, Owner, of Start Skydiving, and Member of Team Fastrax.
Friday night will be topped off with a special fireworks display, compliments of Start Skydiving. Come early and enjoy the entire day of fun, food and, of course, hot air balloons. Morning balloon flights are held on Saturday and Sunday mornings 7-10 am. Morning flights are free with on-site parking. The event ends after the Sunday morning flight.
Click here for the full article.