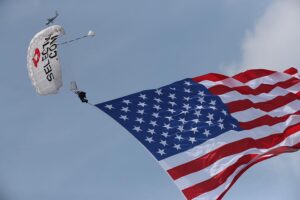 Rocky's Run for Freedom 5K Run/Walk will be held Saturday, May 25, 2019, with a start time of 9 a.m. The race held at Veteran's Memorial Park in Miamisburg, OH is a great way to get active and support a worthy cause. 
The run is held in honor of Rocky Zanowick who died while serving his country. This race is part of the Fallen Hero 3x5K Challenge. The proceeds will benefit Blue Skies for Good Guys and Gals Warrior Foundation, Spikes K9 Fund, and the Uriah Edward Zanowick Trust Fund. 
Prior to Rocky's Run for Freedom 5K race at 8 a.m., Team Fastrax™ will perform their American Flag demonstration jump while the National Anthem is being sung. Their beautiful 2,000 sq. ft. American Flag will fly over the runners prior to the start of the race. 
"Our soldiers risk their lives every day to protect the freedoms that we so cherish, and it's important to honor those who have paid the ultimate price whenever we can," commented John Hart, Founder of Team Fastrax™.  "We are honored to be at Rocky's Run for Freedom supporting a great cause." 
Rocky's Run for Freedom is the first race in the Fallen Hero 3x5K Challenge. The next two races include the Bill Wilch Memorial 5K Run/Walk on July 13, 2019, and the LCPL Taylor Prazynski Run/Walk & Roll on Nov. 9, 2019. All races take place in Southwest Ohio. 
The Bill Wilch Memorial 5K Run/Walk is part of the Team Fastrax™ Warrior Weekend to Remember, which will include several days of private and public events July 10-14, 2019. It is an exciting combination of activities meant to enrich the lives of our active duty and veteran men and women injured in combat or training. Combat injured warriors and Gold Star families participate in activities such as tandem skydives, aircraft rides, hot air balloon rides, and a gun shoot. The Zanowick family are one of the many Gold Star families that attend the Warrior Weekend each year.   
For more information on the race or to register visit Rocky's Run for Freedom website. 
 ABOUT BLUE SKIES FOR THE GOOD GUYS AND GALS WARRIOR FOUNDATION 
Blue Skies for the Good Guys & Gals Warrior Foundation was formed in 2005 by the Team Fastrax™ Professional Skydiving Team. In addition to this life-enriching weekend, the Foundation provides a skydiving program for wounded veterans of America's Armed Forces. Since formed, the foundation has taken more than 1,100 combat wounded veterans and Gold Star families skydiving. The program is primarily funded through the support of SELECTiON.COM® and private donations. The Foundation staff is made up of volunteers from Team Fastrax™ and 100% of funds raised go directly to support their warrior events. 
Team Fastrax™ is sponsored by SELECTiON.COM®, a nationwide provider of criminal and pre-employment background screenings also referred to as a Consumer Reporting Agency. Headquartered in Cincinnati, OH, SELECTiON.COM® is a veteran-owned company that has been in business since 1991 and offers more than 35 background and data collection services.