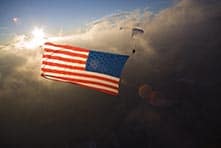 The San Jose Earthquakes game against the Chicago Fire on Saturday, June 29, 2019, is sure to be a fun night. The game is held at the Stanford Stadium and kickoff is at 6:30 p.m.  
As part of the opening ceremony, Team Fastrax™ will perform an amazing aerial display with their 1,100 sq. ft. American flag, San Jose Earthquakes Flag and red, white, and blue streamers with smoke. The spectacle will be shown on the stadium screen with help from the team's live air-to-ground video.  
"We are honored to be performing our patriotic skydive for such an important MLS game," commented John Hart, owner of Start Skydiving, and Founder of Team Fastrax™. "This game is sure to be exciting for the whole family." 
According to the Earthquakes' website, all branches of the military will be honored during half time. There will be pre-game activities, including inflatables, face painting, vendor tents, and live music starting at 3 p.m. After the last whistle is blown, there will be post-game fireworks. 
 For more information on the race or to purchase tickets, visit the San Jose Earthquakes website. 
 Team Fastrax™ dedicates every performance to a local fallen hero. They may be gone but are not forgotten. This performance is dedicated to Army Cpl. Christopher D. Rose. To learn more about Army Cpl. Christopher D. Rose, visit the Honor the Fallen website. 
Team Fastrax™ is sponsored by SELECTiON.COM®, a nationwide provider of criminal and pre-employment background screenings also referred to as a Consumer Reporting Agency. Headquartered in Cincinnati, OH, SELECTiON.COM® is a veteran-owned company that has been in business since 1991 and offers more than 35 background and data collection services.