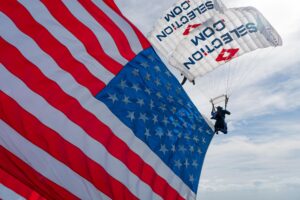 The Alsco 300 and Coca Cola 600 NASCAR Sprint Cup Series races are held at the Charlotte Motor Speedway in Concord, NC as part of their Memorial Day Weekend Celebration.  
On, Sunday, May 26, 2019, the Coca–Cola 600 includes a Team Fastrax™ performance as part of the opening ceremony of the race. At 2:40 p.m., Team Fastrax™ will perform a patriotic aerial display with their 2,000 sq. ft. American Flag. 
"We are honored to be performing our patriotic American Flag skydive during such an exciting weekend at Charlotte Motor Speedway," commented John Hart, owner of Start Skydiving, and Founder of Team Fastrax™. "Both races are sure to be a lot of fun. Our soldiers risk their lives every day to protect the freedoms that we cherish, and it's important to honor those who have paid the ultimate price whenever we can especially on Memorial Day." 
Defending race winner Kyle Busch will battle it out for the checkered flag with Martin Truex Jr., Kevin Harvick, Chase Elliot, Kyle Larson, and all the stars of the NASCAR Sprint Cup Series. The 60th running of the Coca-Cola 600 NASCAR Race will also include a performance by Cheap Trick. In addition, there will be a pre-race Salute to the Troops tribute for all five branches of the U.S. Armed Forces. The windshield of each race car will include the name of a fallen service member in "honor of those who made the ultimate sacrifice," according to NASCAR's website. 
For more information on the race or to purchase tickets visit the Charlotte Motor Speedway website. 
Team Fastrax™ dedicates every performance to a local fallen hero. They may be gone but are not forgotten. This performance is dedicated to over 40 fallen service members honored by NASCAR throughout the Coca-Cola 600 weekend. 
 Team Fastrax™ is sponsored by SELECTiON.COM®, a nationwide provider of criminal and pre-employment background screenings also referred to as a Consumer Reporting Agency. Headquartered in Cincinnati, OH, SELECTiON.COM® is a veteran-owned company that has been in business since 1991 and offers more than 35 background and data collection services.