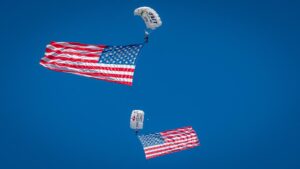 On Friday, June 14, 2019, the Stripes and Stars Festival will be held at locations throughout Independence National Historical Park and Historic Philadelphia, including Independence Hall, the Betsy Ross House, and the National Constitution Center. This year's festival commemorates the U.S. Army's 244th anniversary and the American flag's 242nd birthday.
At noon, Team Fastrax™ will perform their crowd-pleasing flag demonstration jump at the Independence Mall. Four skydivers will fly in with their amazing 2,500 sq. ft. American flag, as well as, three other flags ranging from 2,000 to 1,100 sq. ft. It will be a spectacular experience.
"Flying our Nations' colors over Philadelphia and landing in front of Independence Mall is special to Team Fastrax™ because our Nation's independence started right here," commented John Hart, owner of Start Skydiving, and Founder of Team Fastrax™. "Also, it is Flag Day and the birthday of the United States Army. When you see the flags flying in, take a moment to reflect and honor those who have made the ultimate sacrifice defending and protecting our freedoms."
According to the National Constitution Center website, the event includes a 50-star flag raising ceremony, a patriotic parade, a swearing-in of Army recruits, displays and demonstrations of U.S. Army equipment, giant flag folding activities, and a moving naturalization ceremony. There will also be a performance by the United States Army Old Guard Fife and Drum Corps.
For more information on the event, visit the National Constitution Center website.
Team Fastrax™ dedicates every performance to a local fallen hero. They may be gone but are not forgotten. This performance by Team Fastrax™ is dedicated to Marine Cpl. Michael A. Estrella. For more information on Marine Cpl. Michael A. Estrella visit the Honor the Fallen website.
Team Fastrax™ is sponsored by SELECTiON.COM®, a nationwide provider of criminal and pre-employment background screenings also referred to as a Consumer Reporting Agency. Headquartered in Cincinnati, OH, SELECTiON.COM® is a veteran-owned company that has been in business since 1991 and offers more than 35 background and data collection services.