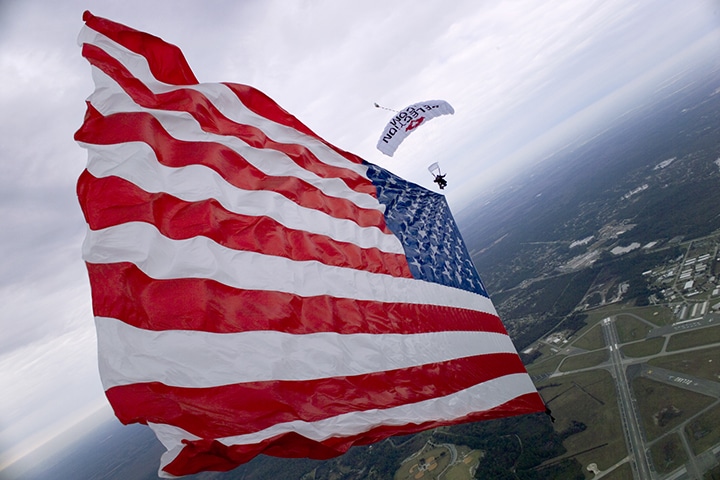 Starting at noon on Dec. 27, 2019, the North Carolina Rams will face off against the Temple Owls in the long-anticipated Military Bowl at the Navy-Marine Corps Memorial Stadium in Annapolis, MD.
The game between the Atlantic Coast and American Athletic Conferences is sure to be an exciting one. Team Fastrax™ will be delivering the game ball with a patriotic skydive performance, shown via live feed on the scoreboard.
As the first notes of the National Anthem are heard, fans will look to the sky as the team jumps in with their 2,000 sq. ft. American Flag, Armed Forces Medley Flag, and 1,100 sq. Ft. Honor and Remember Flag, which has more than 350 signatures of Gold Star families honoring their loved ones. Gold Star families at the game will be permitted to sign the flag after the performance.
"We are excited to be performing our fan-favorite skydive on such a significant day at the Navy-Marine Corps Memorial Stadium," commented John Hart, owner of Start Skydiving, and Founder of Team Fastrax™. "Some of our Team Fastrax™ members have served in the United States Armed Forces, many in combat, so we especially enjoy performing at any event honoring our Nation's military."
According to the Military Bowl website, the game serves as a significant local event aimed towards benefiting USO and other organizations that support members of the Armed Forces and their families. The Bowl has donated over $800,000 to USO and provided over 25,000 complimentary tickets for troops and their families since its start in 2008.
For more information on the Military Bowl or to purchase tickets, visit the Military Bowl website.
Team Fastrax™ dedicates every performance to a local fallen hero. They may be gone but are not forgotten. This performance by Team Fastrax™ is dedicated to Air Force Capt. David I. Lyon. For information on Air Force Capt. David I. Lyon, visit the Honor the Fallen website.
Team Fastrax™ is sponsored by SELECTiON.COM®, a nationwide provider of criminal and pre-employment background screenings also referred to as a Consumer Reporting Agency. Headquartered in Cincinnati, OH, SELECTiON.COM® is a veteran-owned company that has been in business since 1991 and offers more than 35 background and data collection services.