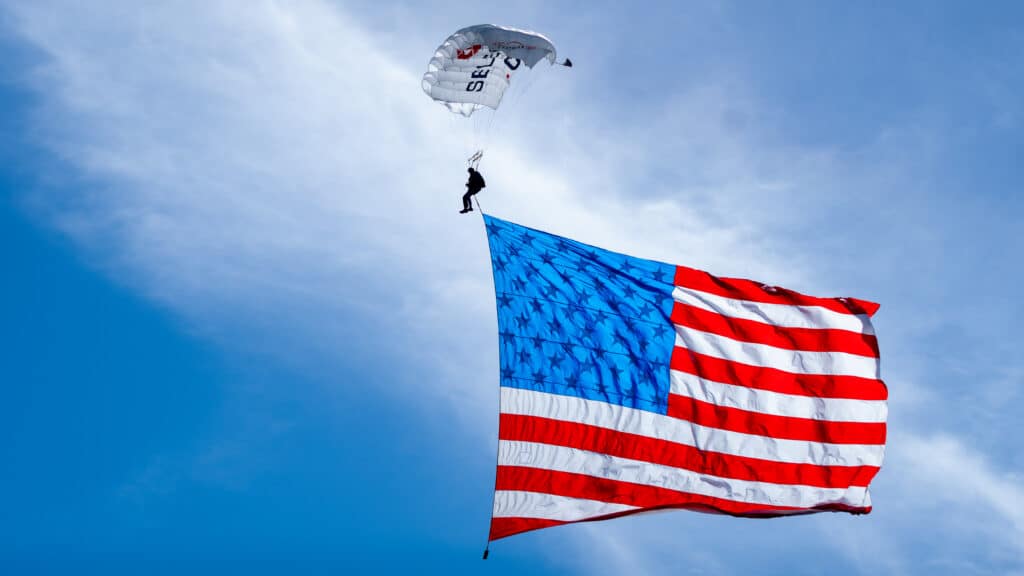 Beginning Saturday, October 5, 2019, the 48th Albuquerque International Balloon Fiesta presented by Canon will start in Balloon Fiesta Park in Albuquerque, NM. It is the largest gathering of balloons and balloonists in the world. The nine-day festival will leave you in awe.
Team Fastrax™ will perform their fan-favorite patriotic demonstration with their 2,000 sq. ft. American flag throughout the festival in the evenings.
"The Albuquerque International Balloon Fiesta is a family-friendly event," commented John Hart, owner of Start Skydiving, and Founder of Team Fastrax™. "The sense of community within this festival is heartwarming. It's not just about hot air balloons; it's about connecting as a community. We hope everyone comes out and enjoys the weather, activities and time with one another."
According to the Balloon Fiesta website, this year, 104 special shape balloons are representing 17 participating countries around the world. A wide variety of performances, including the Air Force Academy Band, will be offered in three different locations around Balloon Fiesta Park. Guests will be able to visit more than 40 food concessionaires and 40 merchandise vendors. An estimated 886,037 people attended Balloon Fiesta last year.
For more information on the festival or to purchase tickets, visit the Balloon Fiesta website.
Team Fastrax™ dedicates every performance to a local fallen hero. They may be gone but are not forgotten. These performances by Team Fastrax™ are dedicated to Army Spc. Angel L. Lopez, Army Spc. Jessica L. Cawvey, Army Spc. David A. Hess, Marine Sgt. Justin T. Walsh, and Navy Cmdr. Joel Del Mundo Tiu.
Team Fastrax™ is sponsored by SELECTiON.COM®, a nationwide provider of criminal and pre-employment background screenings also referred to as a Consumer Reporting Agency. Headquartered in Cincinnati, OH, SELECTiON.COM® is a veteran-owned company that has been in business since 1991 and offers more than 35 background and data collection services.