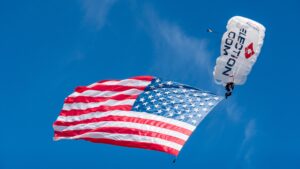 Starting Friday, April 12, 2019, Team Fastrax™ will perform special patriotic demonstrations at the ToyotaCare 250 NASCAR Xfinity Series Dash 4 Cash Race and Toyota Owners 400 Monster Energy NASCAR Cup Series race at what surely is an impressive weekend for Richmond race fans.
At the start of each race, Team Fastrax™ will execute expertly coordinated aerial demonstrations, by skydiving in during the National Anthem with their 2,000 sq. ft. American Flag, a 1,000 sq. ft. "Richmond is for Racing Lovers" flag and the Honor and Remember Flag. The Honor and Remember Flag is dedicated to Gold Star families and contains more than 350 signatures from Gold Star families who have lost a family member in the service of our country.
"We are privileged to be performing our patriotic American Flag skydive during such a thrilling weekend at Richmond Raceway," commented John Hart, owner of Start Skydiving, and Founder of Team Fastrax™. "The NASCAR Cup Series and Xfinity races are very ambitious, and we couldn't be happier to be a part of it."
According to the Richmond Raceway website, fans will be treated to Harley Boone, an authentic country music band from Richmond, VA as they headline the fan-favorite Rolling Concert in the GEICO Campgrounds. There will be numerous driver appearances throughout the weekend at the Markel Entertainment Plaza. Fan can also go outdoor karting at Richmond Raceway.
For more information on the race, or to purchase tickets visit the Richmond Raceway website.
Team Fastrax™ dedicates every performance to a local fallen hero. They may be gone but are not forgotten. These performances by Team Fastrax™ are dedicated to Army Col. Paul M. Kelly and Army Staff Sgt. Michael D. Moody Jr. For information on Col. Paul M. Kelly, visit the Honor the Fallen website. For information on Staff Sgt. Michael D. Moody Jr visit the Fallen Heroes Project website.
Team Fastrax™ is sponsored by SELECTiON.COM®, a nationwide provider of criminal and pre-employment background screenings, also referred to as a Consumer Reporting Agency. Headquartered in Cincinnati, OH, SELECTiON.COM® is a veteran-owned company that has been in business since 1991 and offers more than 35 background and data collection services.