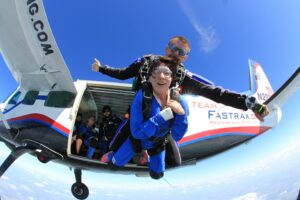 Starting on Thursday, July 11th, 2019 at 6 a.m., combat injured Warriors and Fallen Hero families will descend over Start Skydiving in Middletown, OH. These individuals will be tandem skydiving with members of the elite Team Fastrax™ professional skydiving team. There will also be hot air balloon rides for honored warriors. 
This kicks off the beginning of the Team Fastrax™ Warrior Weekend to Remember which includes private and public events during the weekend, July 11-13.  
Media interviews, photos, and video are all encouraged. This media/public event will begin at 6 a.m. 
"Warrior Weekend has been a life-changing event for both my family and me," said Sam Deeds, USMC Purple Heart recipient, and Blue Skies Alumni Ambassador. "We are making a difference in the lives of not only the veterans and Gold Star families but the lives of everyone that is involved with Blue Skies, Team Fastrax™ and the Warrior Weekend." 
Public events include the Bill Wilch Memorial 5K Run/Walk, Hot Rod Happy Hour car show, silent auction, and a ceremony honoring new Warriors and Gold Star families. Warriors and Gold Star families will be honored at the Dayton Dragons game on Thursday, July 11. For more information, visit the Warrior Weekend to Remember website. 
"Putting a smile on the faces of so many of our wounded active duty and veteran armed forces members makes being a part of this event a great honor," commented John Hart, owner of Start Skydiving, and Founder of Team Fastrax™. "God bless America and God bless the men and women who have served and those who continue to serve our county." 
Grainworks Brewing Company shows their support of the honored warriors with their special Hero Brew which will be served at the event. The proceeds go to Blue Skies for the Good Guys and Gals who support combat injured warriors and fallen hero families. Hero Brew is also available at Grainworks taproom in West Chester, OH, and other participating bars until Labor Day. To learn more, visit Warrior Weekend to Remember. 
Team Fastrax™ is sponsored by SELECTiON.COM®, a nationwide provider of criminal and pre-employment background screenings also referred to as a Consumer Reporting Agency. Headquartered in Cincinnati, OH, SELECTiON.COM® is a veteran-owned company that has been in business since 1991 and offers more than 35 background and data collection services.